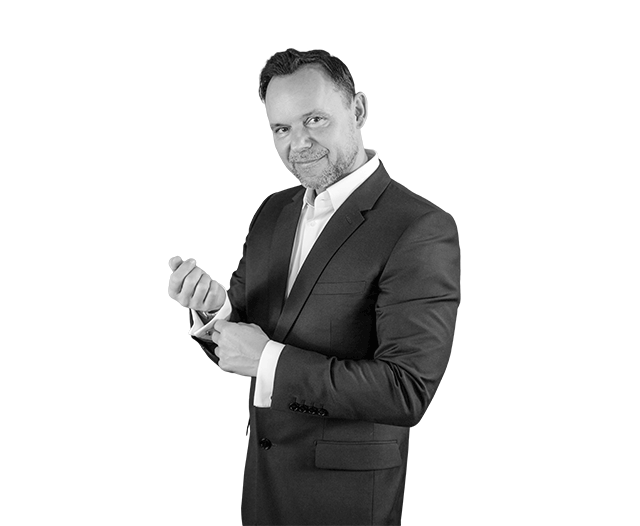 Christian Meier - Interview
Tell Me Something About Your Background?
I was born in Austria and spent my first years of life in Tamsweg. To say that it was an easy life, especially financially, would not be true. Particularly as the environment I grew up in as a child was very difficult and left its mark.
When I was 14 years old, we moved to Germany to live with my parents. Both, mother and father worked in the restaurant business. So I helped out to earn some money. I started as a kitchen helper, and was later allowed to work in the bakery. Then I proudly made it all the way as a service worker. I worked after school and homework and made myself more financially independent. A great side effect was that the part-time jobs made me more stress-resistant and I really enjoyed pursuing a meaningful occupation.
How Did You Experience Your School Days?
Even as a teenager, I went through life with a positive, entrepreneurial attitude. Accordingly, I was also ambitious in school. During my business baccalaureate at the FOS, I completed a six-month internship that was part of my baccalaureate, which I finished with an excellent numerus clausus. For my intended studies in the tourism industry I had to accept a longer waiting period, which I bridged with a part-time job at the company Baer Elektronik, which also enabled me to complete the previous internship. In between, I worked for half a year at the World Exhibition (1992) in Seville. That was a very special and diverse experience, which shaped me interculturally and entrepreneurially. Getting to know many people allows one to broaden their horizon and change one's own view of the world. After my return in 1993, I continued my professional career at Baer Elektronik. The marketing of remnants of electronic components became more and more important and quickly became the central business principle. An increasing concentration on semiconductors was the logical further development. In 1996 the foundation of AKI – Elektronik (AKI – All Kind of ICs) took place together with Mr. Baer (Fa. Baer Elektronik). On the initiative of my business partner we separated in 1997 and the continuation of the newly founded company took place in great steps.
And That's How You Got In Touch With Electrical Engineering?
When you're surrounded by video, computer and television equipment, you're bound to get involved. My interest was aroused. To this day, I find encapsulated ICs (Integrated Circuits) exciting, for example. Everything that has to do with chips, capacitors, circuit boards, etc. fascinates me. Some people see in them only simple components that may seem boring. But when you think about the world that semiconductors have catapulted us into, it is overwhelming. I often look at electronics in the abstract. Their inner workings are based on physical principles. But in sum, it brings to life a smartphone, for example, with which I can capture images and thoughts. This conveys emotions that influence us. This causal connection impresses me to this day.
What Were Your Tasks?
I was mainly responsible for components that were no longer produced or were hard to get. Back then, in the 80s and 90s, people still repaired a lot instead of just using up electronics and throwing them away. The price of good electronics was also different. A new TV could cost as much as a month's salary.  Anyway, I found the search for components very challenging, exciting and filled me with joy when I discovered another source.  In the process, I developed an analytical method that, in the later course of my entrepreneurial activities, was incorporated into a very efficient software program that allows data to be collected extremely quickly and classified according to the respective key parameters. I'm not talking about a few data sheets for a dozen capacitors. I'm talking about thousands of different components from different product classes. I had to interpret values and data from catalogues with thousands of pages. In addition, there was a flood of data sheets that was simply endless. And this at a time when the Internet was still in its infancy and Excel was only a term for top managers, statisticians or nerds. In those moments, a characteristic of my mind crystallized that was and is of immense importance for data analysis. I have a photographic memory. I can remember numbers, tables, serial numbers and parameters as few people around me can. Even today, I can list in my sleep the components I sold at the very beginning of my career in the electrical industry. One thing led to another. The managing director of the Munich-based radio and television company recognized the potential that lay in components that were difficult or quick to procure. And so the plans for a joint company flourished. I owe a lot to my mentor and friend at the time, who always encouraged me to break new ground. Unfortunately, we then parted ways at a stage when we both wanted to follow new paths.
And Out Of That Came Your First Own Company?
My tasks as a trainee included order processing, especially in the early days. So I had customer contact and I really enjoyed advising our customers. In some cases, purchasing tasks were also added. I quickly realized that the semiconductor sector would gain in importance. 1996 was the year when many people discovered the Internet; digitization began its unstoppable triumphant march. So we started to build up a semiconductor range and focus more on it. In this way, I learned in practice what it means when customers suddenly needed processors and memory chips in a bottleneck. The consequence was that we concentrated strongly on the purchase of lot goods and acquired here an immense know-how, from which ComSIT benefits from today. My abilities in the areas of Logistics, Purchasing and Sales led after my economics high school diploma to a co-operation with the company, with which I had begun as a trainee. From this cooperation the company "All kinds of IC – AKI" was born. A short time later I parted ways with my then business partner.
Now I was on my own. That was, if you will, the starting signal for my own startup. I could hardly wait to get started. Soon I had three employees and a store in Munich. We grew quickly and I was suddenly faced with completely different challenges. Employee management, external presentations, marketing and especially logistics were a big challenge. The conditions were sometimes very tough. Sometimes I spent nights optimizing processes to align the company even faster with reputable suppliers and build relationships with them. The competition, which was much bigger, was always lying in wait. Accordingly, in the beginning it was an uphill battle with setbacks that I had to fight for every day. I saw myself as an underdog with startup flair and worked my way up in the industry. Together with our team, we achieved our goals. Our success even led to us being offered a higher eight-figure sum for the company at the turn of the Millennium. For moral reasons, including those relating to the employees, I decided against it at the time.
The Year 2000 Was A Wild Time.
Back then, everyone wanted to get into the stock market, make a quick buck, and so on. I was skeptical by nature.  The developments at the time and the bursting of the dotcom bubble proved that I was right. I was also right about the Internet, which we already used intensively around the turn of the millennium and before to improve process flows structurally and step by step. Sales, Purchasing, Marketing and Logistics were improved enormously as a result. The Internet was of fundamental importance, especially for international acquisitions. Today, a gigantic network combined with highly developed and innovative software forms the heart of our company and gives us insight into the worldwide availability of all the various classes of electronic components. The same platform is also our sales portal, connecting us with millions upon millions of consumers.  In 2001, after the great stock market crash, we joined forces with my business partner Peter Heinbach from HBC to form ComSIT. While other companies were recovering from the stock market crash, we continued to grow steadily, opening offices in Asia and the United States. Our goal was to be available to our customers via the Internet 24 hours a day, seven days a week, 360 days a year. We succeeded in making this happen.
And When Did You Meet Müzeyyen Carrasco-Demir, Your Current Business Partner?
I had known Müzeyyen since 1996, when we met at Electronica in Munich. We had a humorous discussion about Infineon components that I thought only I had in stock. She claimed otherwise and was convinced that she too could obtain the component with serial number TDA4718A (the serial number is burned into my memory). And at an even better price.  And she was right.  I was very impressed with this energetic woman. Not only had she procured the parts, but to my surprise, she had done so at a cheaper price than I could have done at the time. After that, apart from sporadic contact, we initially parted ways.  Until 2008, when the top buyer and excellent saleswoman joined ComSIT as a partner. In 2022, Peter Heimbach, whom I hold in very high regard and to whom we owe a great deal, left the company for reasons of age. Since then, Müzeyyen and I have formed a CEO tandem. And with that we are very satisfied. Because our goal is to lead the company into the future with many new ideas.
Speaking Of The Future. How Do You Envision It For The Company?
Two factors play a role in this.
1. ComSIT is to become the largest independent distributor of its kind. And we are well on the way to achieving this.
2. the company is committed to its employees. They all have a family, a secure home. Their future must be secured. But also the future of the young people who want to come to us and deserve a chance.
I have learned in my life to always think positively. Even if you have to take setbacks. It's like in the boxing ring. You fall, but you can get up again. And we should give this example to all people who want it. No matter what challenges you face, whether your eye color is brown, blue or green, or what cultural background you come from. Everyone deserves a chance. You just have to take advantage of it.
What Do You Personally Want For The Future Of Your Children?
That they grow up protected, which is what I wish for all children in this world, that they have parents who are there for them, that they have a happier childhood than I had.  And that, when they grow older, they also think of others who are not doing so well.
They should develop a sense for our environment and take sustainability seriously. We only have one planet. We must protect it and leave it intact for future generations. We, the current generation, bear the responsibility for this.
We must also deal responsibly with the new technologies that are coming our way exponentially and at ever faster intervals. One example is artificial intelligence, which is making its way and will change the world. However, this also entails risks that we need to keep an eye on.
Go back to the overview to read more Personal Stories.